Shopping Cart
Your Cart is Empty
There was an error with PayPal
Click here to try again
Thank you for your business!
You should be receiving an order confirmation from Paypal shortly.
Exit Shopping Cart
| | |
| --- | --- |
| Posted on October 11, 2021 at 4:40 PM | |
Society 5.0
DRAFT 1.0
12 oktober 2021
Ik ben bezig mijn presentatie voor te bereiden over Society 5.0 voor een conferentie aan een Turkse universiteit, op 20 oktober 2021. Het is een gevolg van de conferente van de Universiteit van Pretoria.
Toen ik publiceerde over het onderwerp begin 2020 was alleen Japan bezig met Society 5.0. (Goede M. , 2020). Dat wordt gedefinieerd als volgt: "A human-centered society that balances economic advancement with the resolution of social problems by a system that highly integrates cyberspace and physical space."
In onderstaande figuur wordt de ontwikkeling van 1.0 naar 5.0 geïllustreerd.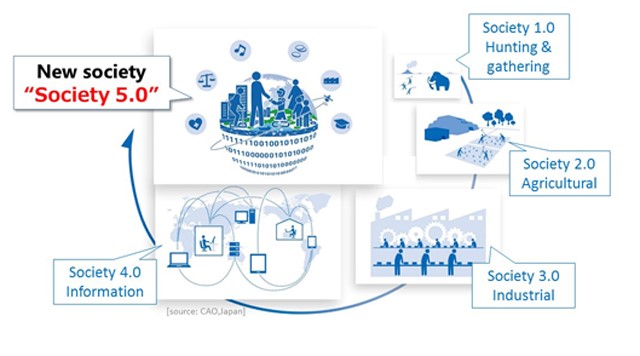 Figuur 10: From 1.0 to Society 5.0

 

Ik zie een link met de Smart City: "a well-defined geographical area, in which high technologies such as ICT, logistics, energy production, and so on, cooperate to create benefits for citizens in terms of wellbeing, inclusion and participation, environmental quality, intelligent development; it is governed by a well-defined pool of subjects, able to state the rules and policy for the city government and development" (Dameri, 2013, p. 2549) (Goede M. , 2018).

En ik denk dat een Smart Island weer bijzonder is. Ook ben ik van mening dat het in Society 5.0 helemaal niet om technologie draait maar mensen; hoe mensen invulling geven aan algemeen belang, aan 'wij', de ander.

Ik vraag mij af hoe het op Curaçao zal verlopen. Wij praten wel over Smart Nation en hebben zelfs een platform met een Facebook pagina opgericht. Wij wanen ons op weg maar zitten nog goed vast in 2.0. Ik vraag mij vandaag waarom de regering niet als target stelt: dat in 2024, 95% van alle huishoudens en scholen aangesloten moeten zijn op hoge snelheid internet.

De technologie zal er wel komen, wij worden heus wel een beetje 4.0 of 4IR, maar of het ins voorspoed zal brengen? Alleen als er een ambitieuze visie en programma komt. Dan moet ik even denken aan het mooie artikel over dit onderwerp in het Curaçao Business Magazine (Jansen, 2021).

 

 

References

Goede, M. (2018). Curaçao: Smart Nation From Smart city to Sage society. Arvievs of Business Research. Retrieved from https://www.academia.edu/36246612/Cura%C3%A7ao_Smart_Nation_From_Smart_city_to_Sage_society

Goede, M. (2020). Society 5.0; We and I. Retrieved from https://www.academia.edu/41912670/Society_5_0_We_and_I

Jansen, Ú. (2021). Curaçao 2030 – A Vision of the Future. Retrieved from https://issuu.com/curacaobusinessmagazine: https://issuu.com/curacaobusinessmagazine/docs/curacao_nr1-2021-web/s/13631692

 

 

Dr. Miguel Goede

 

Categories: DRAFT 1.0

0

/