Shopping Cart
Your Cart is Empty
There was an error with PayPal
Click here to try again
Thank you for your business!
You should be receiving an order confirmation from Paypal shortly.
Exit Shopping Cart
| | |
| --- | --- |
| Posted on June 25, 2022 at 4:50 PM | |
Is de toeristische sector op Curaçao uit ontwikkeld?
DRAFT 2.0
26 junie 2022
Gisteren stond in de krant dat er bij Piscadera weer een groot hotel met jachthaven komt. Goed nieuws, zou je denken, want toerisme is de enige economische pilar die over is gebleven. In hetzelfde artikel geeft de ontwikkelaar aan dat het een uitdaging zal worden om werknemers aan te trekken (Hotel en jachthaven bij Piscaderabaai, 2022). Dit probleem hebben wij recent meegemaakt bij de opening van Sandals, begin juni 2022. Dit is één van de signalen dat het eiland de grenzen van het duurzaam ontwikkelen van het toerisme heeft bereikt. Deze stelling staat in de context van de legio andere projecten en de duizenden banen die daarmee zijn gemoeid, die in de pijplijn zijn.
In het proefschrift van Arjen Alberts komt hij tot de conclusie dat Aruba en Sint Maarten de carrying capacity hebben overschreden (Alberts, 2022). Dat zal hier nu niet anders zijn.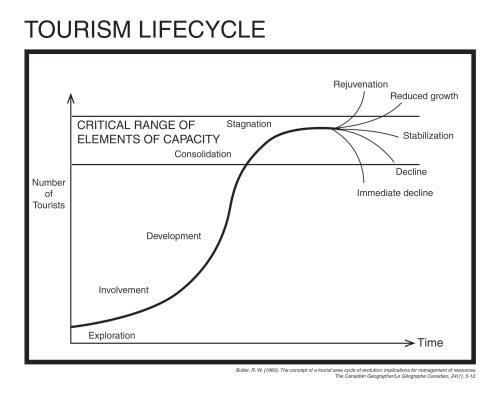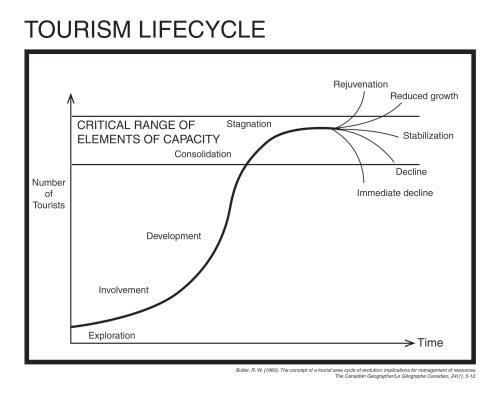 Curaçao is verworden tot Small Island Tourism Economy (SITE). Deze ontwikkelen zich volgens Tourism Area Life Cycle (TALC). (zie figuur). SITE's worden geconfronteerd met de volgende problemen: een verouderd en versleten toeristisch product; het gebruiken van onevenredig veel ruimte; overbevolking (het aantrekken van veel buitenlandse arbeidskrachten); schade aan het milieu (relatief grote footprint); het verlagen en laag houden van de arbeidsproductiviteit. In het algemeen werd aangenomen dat de toeristische sector kwetsbaar is voor (externe) schokken. Uit onderzoek blijkt dat dit niet geld voor SITE's. Zie bijvoorbeeld Sint Maarten, die snel terug bonst na een orkaan.
SITE's hebben te maken met het syndroom van 'verplichte groei paradox.' Dat zien wij op Curaçao ook. De bouw van hotels stopt niet en lijkt niet te stoppen en bovengenoemde problemen zullen blijven toenemen. Het eiland zal zich ontwikkelen als plek van massatoerisme met alle kenmerken en gevolgen. Dat is niet wat wij nodig hebben.
Wat Curaçao nu nodig is, is een conceptuele vernieuwing van het toerisme, en geen verdere groei in kamers. Bijvoorbeeld het schiereiland van Caracasbaai ontwikkelen als historisch- en natuurpark. Oostpunt als commercieel natuurpark voor de bovenmarkt. Natuurlijk is dat aan de eigenaar. En hebben wij nodig het daadwerkelijk ontwikkelen van één nieuwe sector als de ICT, alternatieve energie, of landbouw.
References
Alberts, A. (2022). Small island tourism economies and the tourism area lifecycle; Aruba and Sint Maarten have exceeded their carrying capacity.
Hotel en jachthaven bij Piscaderabaai. (2022, juni 23). Antilliaans Dagblad. Opgehaald van https://antilliaansdagblad.com/nieuws-menu/25878-hotel-en-jachthaven-bij-piscaderabaai
Miguel Goede
Categories: None
/